About Us
Message ~ Resolution for Founding a New Firm
We, the members of Maxwell International IP Law Firm, have ever been working diligently, believing that a patent attorney's work is one of the most sophisticated types of services in all of business.

Our guiding principle is that, "service is to be performed for others, not performed for ourselves."

We have placed ourselves in our client's position, and carefully examined current situations involving: diversifying client's needs, increasingly severe competition among companies and globally standardized patent workflow. Thus, we were constantly considering "What To Do Now?"

As a result, we have come to believe that founding a new IP law firm is the best choice for us to achieve our ideal goals and to permanently meet our clients' needs with the best possible results. Therefore, we have founded Maxwell International IP Law Firm.

All members at Maxwell are determined to exert maximum effort to achieve the above stated goals, hoping to establish and develop trustful relationships with our clients.

October 2012
Masaharu Takamura
Hiromoto Kashima



Name and Logo of Our Firm

The word "Maxwell" derives from the name of a district called "Oizumi" which was a candidate for our office location in Nerima ward, Tokyo. Although the actual place turned out to be Nerima district in Nerima ward we were inspired by the word. Specifically, "O" was translated into "max" while "izumi" was translated into "well" in the meaning of spring, forming a word "Maxwell" in combination. The word "Maxwell" represents our spirit and strong determination to maximally exert our knowledge, intelligence and energy that will, "Well up like water from a spring".

Our strong determination, as expressed above through the dynamic font in our firm logo, is further enhanced where the largest letter "W" is crowned with three stars. This represents the hope of winning victory with our clients.



Philosophy
We will sincerely perform duties by considering others' positions and putting forth all our knowledge and intelligence to the fullest, thereby achieving mutual development with our clients.

The entire staff will do our best for clients under the spirit that "patent attorney's work is a service business."

We will make our best effort to serve for our clients' benefit, rather than interests of our firm or individuals thereof. Although it is important to make a profit, we will invest the profit in a way that brings about benefits for our clients, for example, by recruiting and training new people and developing infrastructure.

We will maximally extract the potential strength of our clients by providing high-quality services, activating companies and inventors thereof. We will contribute to the society through the activation of our client companies.



Overview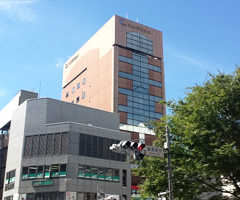 Name
:
Maxwell International IP Law Firm
Location
:
Unity Forum II 6F, 1-4-1
Nerima, Nerima-ku, Tokyo,
176-0001 Japan
Telephone
:
+81-3-5946-9650
Facsimile
:
+81-3-5946-9262
E-mail
:
Foundation
:
October 2012
Number of
Staff Members
:



9 including 4 patent attorneys (as of Octobar 1, 2019)